You may have seen the pictures of Ze Roberto's physique that recently circulated online. The former midfielder turns 48 in July but you wouldn't know it. His Instagram page shows him honing a ripped torso and espousing the benefits of a healthy lifestyle.
"I am no longer a footballer but I continue to look after my health and my body," he tells Sky Sports over Zoom from Sao Paulo in Brazil. "To live a clean, healthy life is a great legacy I can leave for the next generation of people and players. That is very important for me."
Ze Roberto has certainly reaped the benefits of that lifestyle. His remarkable playing career ran until he was 43 years old and his excellence endured until the end, when, aged 42 in 2016, he won the Brazilian championship for the first time with Palmeiras.
Before that, there were two Copa America wins with Brazil (for whom he won 84 caps and played at two World Cups), a Champions League triumph with Real Madrid, and four Bundesliga and German Cup doubles across two glittering spells with Bayern Munich.
He amassed more than a thousand career appearances in total and even now, when our wide-ranging conversation turns to Manchester City, he is adamant he could still cut it in their midfield.
"I have never stopped training," he says with a smile. "If I was to wear the City shirt today, in the physical condition I'm in, and with the way they play, I believe I could play in central midfield for them easily because it's a team which never loses the ball."
Fanciful? Perhaps. But it is not difficult to imagine how much Pep Guardiola would have loved to have him in his pomp.
Ze Roberto was special, an outstanding all-round midfielder further distinguished by a level of tactical intelligence and versatility few could match. When he was not quietly excelling in central midfield, he was doing the same at left-back or on the wing.
The 'pillars' of his longevity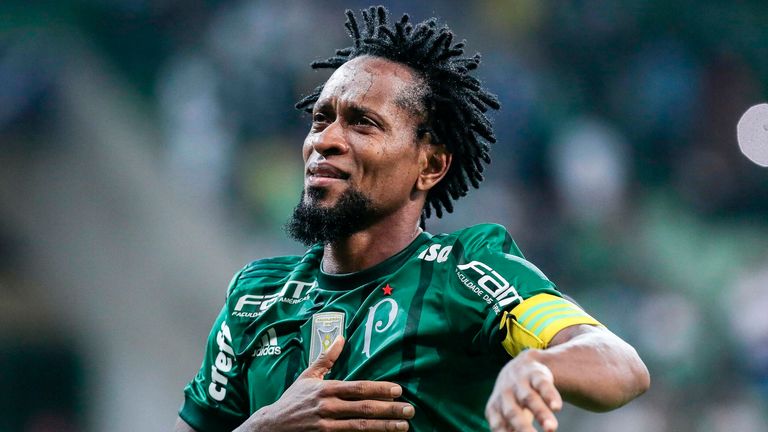 His eyes widen at the thought of playing for Guardiola, but these days, when he is not fulfilling ambassadorial duties or taking part in social projects in his homeland, Ze Roberto is usually travelling far and wide to share the secrets of his longevity.
The care with which he maintains his physique is just one of them.
"I do a lot of lectures where I speak at clubs and businesses about the importance of the pillars I had in my life that allowed me to have a long and successful career," he says. "It's mostly about planning, focus, discipline, and the importance of teamwork and leadership.
"It was possible for me because I was always a very focused and balanced player and I also knew the importance of having clear objectives. That helped me remain focused on achieving them.
"One of the objectives I had when I started playing in Brazil was to one day play for a big club in Europe, because that would enable me to wear the Brazil shirt and have a chance of representing my country at a World Cup. When you have clarity about your objectives, you automatically begin to work towards them."
Ze Roberto achieved his first objective in his early 20s, his performances for boyhood club Portuguesa earning him a move to Fabio Capello's Real Madrid in 1997.
"The key is to make the right decisions," he says. "When I went to Real Madrid, the best decision I made was to cut certain things out of my life, like alcohol, and to go as a married man with my family.
If I was to wear the City shirt today, in the physical condition I'm in, and with the way they play, I believe I could play in central midfield for them easily
"Being young and being married helped me maintain my focus on my profession. My wife helped me a lot in that process because when a foreigner goes to live in another country on his own, he can have a lot of difficulties. I was able to avoid that."
Still, though, Ze Roberto found himself back in Brazil, this time with Flamengo, only a year after his arrival at Madrid having struggled to make an impact at the Bernabeu.
But that in itself highlights another reason for his longevity – his willingness to take bold decisions in the interests of his career. Ze Roberto could easily have seen out his contract in Spain. Instead, he determined it was better to return home and play regularly.
It became a theme of his career. Ze Roberto never stayed anywhere for more than four consecutive seasons, broadening his footballing experience – he played for nine clubs in four different countries – and ensuring his motivation always remained high.
He also reflected on his mistakes along the way. Indeed, Ze Roberto came to regard his unsuccessful spell at Real Madrid as a formative one – and a vital lesson in the importance of adaptability.
"I got the move to Madrid because I had stood out for Portuguesa, reaching the final of the Brazilian championship, but I made a big error because I thought that with the form I had shown in Brazil, I would be able to go straight in and do the same at Real Madrid.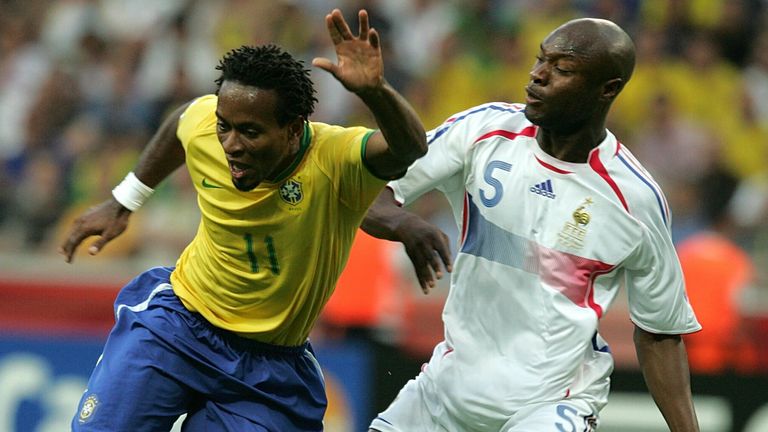 "I didn't think I needed to do anything differently, but in the end I wasn't able to succeed there because I was coming out of a lower level to go to a much higher level.
"When you arrive at the level of a top European team, what you have done at a lower level doesn't help you.
"I learned that I needed to adapt in two ways.
"Firstly, I needed to develop a better tactical understanding of how they played in Europe – I had no idea how different it would be – and secondly, I needed to be physically stronger.
"I weighed 69kg when I moved to Madrid but I needed to be at least 71kg in order to compete with the other players."
Ze Roberto chuckles at the suggestion that he might find it easier now – "I am certainly stronger than I was then," he says – but when he was given a second chance in Europe by Bayer Leverkusen in the summer of 1998, he was far better equipped to make the most of it.
"My mentality had changed," he says. "I went there fully prepared to develop my tactical understanding of the game and I also started to put on more weight and become physically stronger."
Why Ronaldo won't follow in his footsteps
The Athletic's Adam Crafton on whether Manchester United should sell Cristiano Ronaldo

In the end, Ze Roberto's tactical and physical abilities would prove invaluable in helping him extend his career but, despite news of a two-year contract extension for the 44-year-old Gianluigi Buffon at Parma this week, he shakes his head when asked if we may see more players achieving the same levels of longevity in the future.
"I don't think so because with every year that passes, football becomes more physical," he says. "In the coming years, if you are not physically good, you are not going to be able to play in the modern game at a high level.
"And if football becomes more physical, then mathematically the average age of players goes down rather than up.
"Here, for example, we have two players coming through who are regarded as Brazil's next big stars, Angelo Gabriel at Santos, who is 17 and started playing at a professional level at 15, and Endrick at Palmeiras, who is only 15 but already training with the professionals.
"Every year, the average age of when footballers start their professional careers is going down and logically that means the average age of when they finish their careers will go down too, so I think it's difficult for anyone to play at a high level at 40 now."
There will come a time when he decides it is better to stop rather than look for something that won't be the same
What about Cristiano Ronaldo? The Portuguese turned 37 last month but has expressed his desire to play into his 40s. Bayern Munich's Robert Lewandowski, 33, has said the same.
"Cristiano is, for me, a machine," says Ze Roberto, "but I don't think he will still be going at 40 because he is a player who has always played at the highest level, always winning trophies and always trying to be the best player in the world.
"But in the last two years, we have seen he has not been able to do that with Juventus and now with Manchester United. The best proof of that is that he hasn't been among the top two or three players for the big individual prizes.
"He is still a player who costs a lot, but as someone who is used to competing at such a high level, there will come a time when he decides it is better to stop rather than look for something that won't be the same."
How the Bundesliga shaped him
While Ronaldo's next steps remain to be seen, Ze Roberto's legendary status in the Bundesliga is already assured. He spent over a decade in Germany, starting with the four-year spell at Bayer Leverkusen which allowed him to establish himself in Europe.
Bayer benefitted immensely from his presence.
With the Brazilian shining alongside Michael Ballack in midfield, they enjoyed the best spell in their history, securing three second-placed finishes in the Bundesliga, the last of which coincided with agonising Champions League and German Cup final defeats.
"It was a unique experience because Leverkusen were a very unlikely team to reach finals or compete for titles," says Ze Roberto. "In the Bundesliga, we had gone from mid-table to top of the league, trying to be champions, which was unprecedented for the club."
Their Bundesliga title challenge collapsed in the final weeks of that season, however, allowing Borussia Dortmund to seize the crown, with Ze Roberto subsequently missing their Champions League final loss to Real Madrid at Hampden Park due to suspension.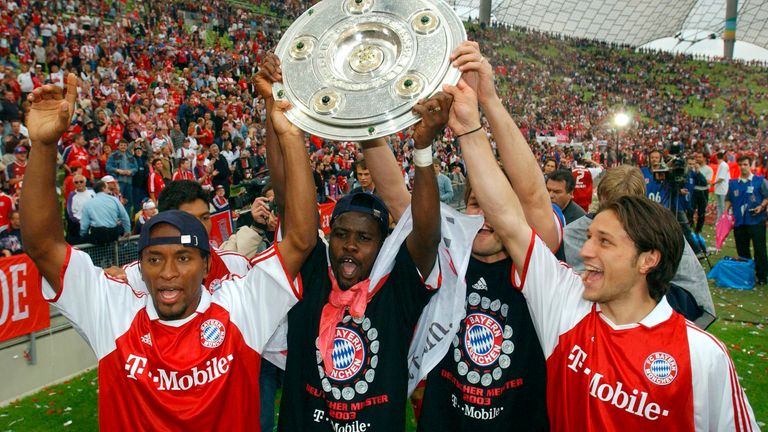 "We got to the point we did because we had a very good and very competitive team, but what was difficult for us was that the season was very long, playing in three different competitions, and there was a period when we lost some important players," he says.
"We lost Jens Nowotny, Lucio and sometimes myself, and when we missed a couple of players, the manager, Klaus Toppmoller, found it difficult to reconfigure the team because we didn't have a deep squad where another player could come in and maintain the level.
"I think Leverkusen's error that season was in not having players on the bench who could maintain the level of the team, but for me it was still a very, very positive experience."
Positive, in part, because it led him to Bayern Munich, where he would continue his midfield partnership with Ballack and finally win the silverware he had long craved.
"Even when I started playing for Leverkusen, I always had the ambition to play for Bayern because I wanted to be a champion in Germany and I knew my best chance of winning the Bundesliga was by playing for Bayern," says Ze Roberto.
"I realised a dream I'd had ever since I arrived at Leverkusen by doing that and to live both of those experiences was fundamental for me.
"I learned and adapted at Leverkusen, then I consolidated it all at Bayern Munich. They were different experiences but both very positive ones in my career."
Premier League, Bernardo Silva admiration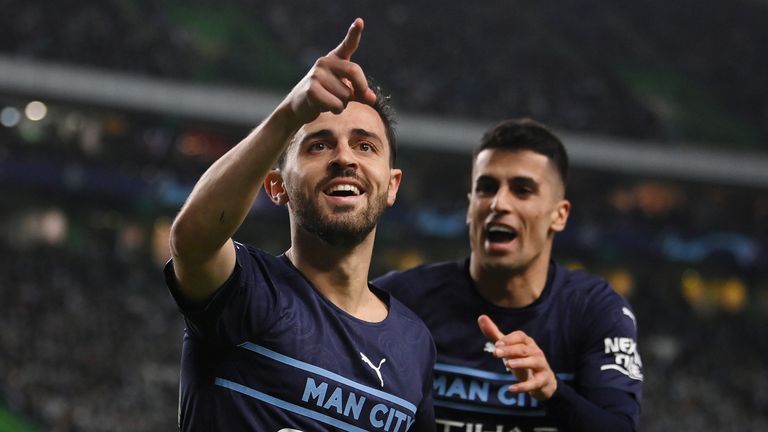 Ze Roberto's two spells at Bayern came either side of a move back to Brazil with Santos. There was a successful two-year stint with Bundesliga rivals Hamburg after that. But the midfielder never had the chance to test himself in the Premier League.
He stops short of calling it a regret but his admiration for the competition is clear.
"For me, the Premier League is the most competitive league in Europe today," he says. "It's a very attractive one for players because before every season, there are three or four teams who could become champions and that is unique."
It is Manchester City, though, who impress him most.
"I believe they are the team that plays the best football in the Premier League because they have possession of the ball all game and they have a way of overwhelming most of their opponents.
Right now, I believe Pep Guardiola has the best player in Europe and that is Bernardo Silva
"They are a cold and calculating team. Cold when they have the ball; calculating when they are finding a way to goal."
They are helped, Ze Roberto says, by the presence of one player in particular.
"Right now, I believe Pep Guardiola has the best player in Europe and that is Bernardo Silva," he says.
"He is a player who, if I was a manager, I would want above all others because he is very hard working and he fulfils various functions during the game which help his manager a lot.
"Bernardo is a player who weighs very little, but he plays the game like a song, and regardless of how his manager sets up tactically, he can fit into any part of the midfield or attack and help his team a huge amount wherever he plays."
Perhaps he sees something of himself in Bernardo Silva but in truth there are not many like the man who kept playing, and kept winning, until the age of 43. Ze Roberto's career holds lessons for all players – just don't expect many to replicate his achievements.
Stuttgart vs Borussia Monchengladbach, Saturday, live on Sky Sports Football; kick-off 5.30pm
Mainz vs Borussia Dortmund, Sunday, live on Sky Sports Football; kick-off 2.30pm
Cologne vs Hoffenheim, Sunday, live on Sky Sports Football; kick-off 4.30pm